Tunnel Pasteurizer
The Hermis tunnel pasteurizer was designed for the thermal treatment of beer and other beverages to be packaged in glass bottles or cans to increase the biological stability of products. Used in filling lines they ensure that the taste of products being bottled or canned is not altered. Automatic and semi-automatic machines are available.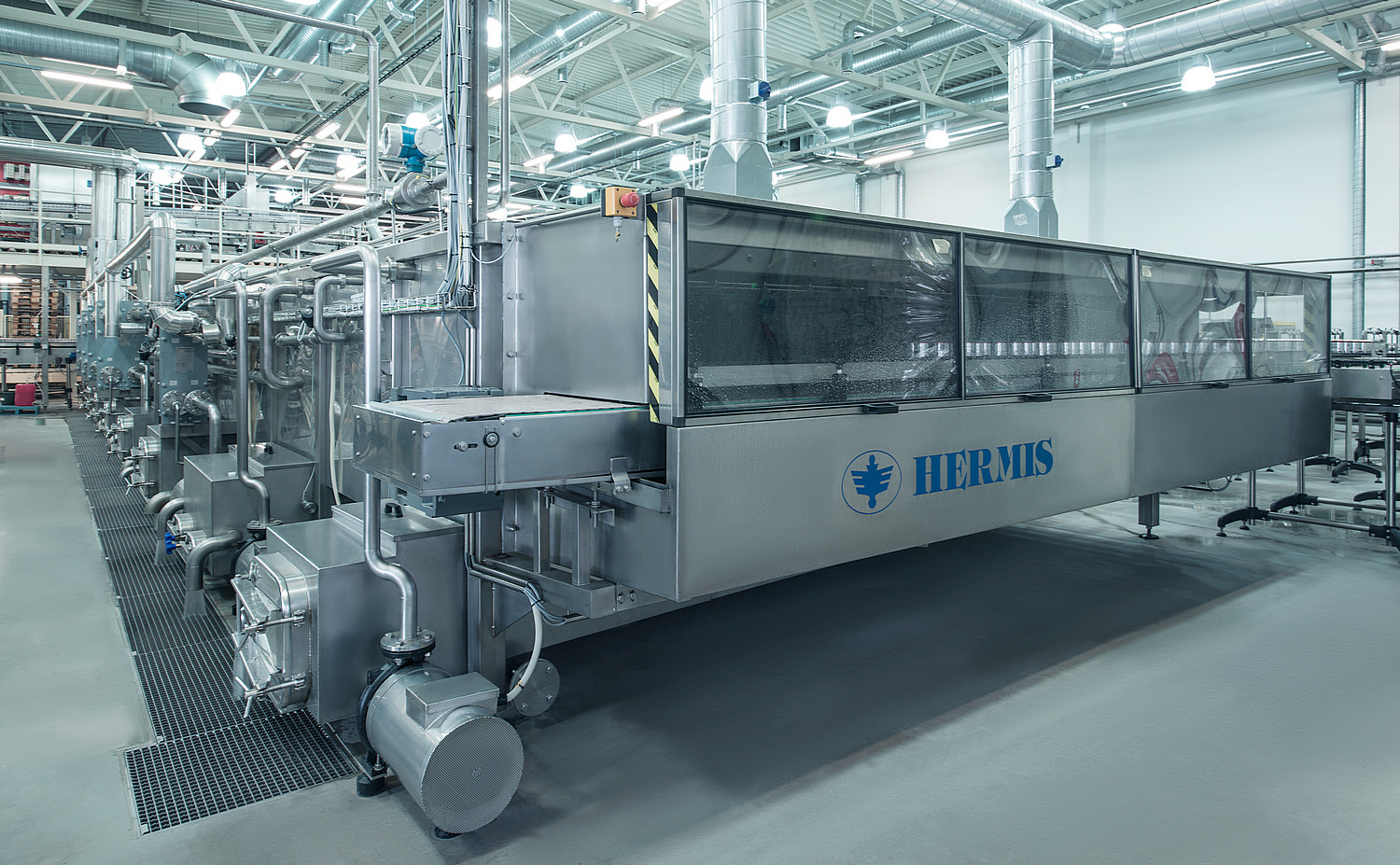 Made from stainless steel, tunnel pasteurizer machines manufactured by Hermis JSC are designed to meet a range of parameters for different sized breweries and to cater for various output requirements: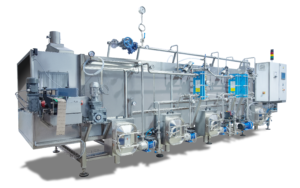 For SMALL BREWERIES
from 800 bot/h – 2000 bot/h
model: TP-HRW 5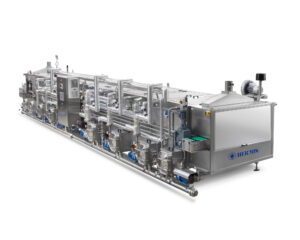 For MIDDLE BREWERIES
from 2000 bot/h – 12000 bot/h
model: TP-HRW 10 – 15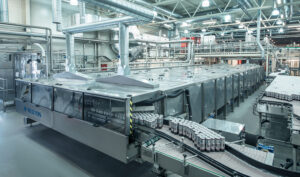 For LARGE BREWERIES
from 12000 bot/h – 50000 bot/h
model: TP-HRW 20 – 50

Technical Details
Controllers
Components
Request More Information
CHARACTERISTICS
Capacity:
From 800 to 50,000 cans or bottles per hour
Products:
Beer, kvass, juice, wine, carbonated and non-carbonated drinks, Product handled: Beer, kvass, juice, wine, carbonated and non-carbonated drinks, vegetables, and canned foods
Number of temperature zones:
From 7 to 10
Method of pasteurization:
Shower, shower-submersible
Heating source:
Steam, electricity, hot water
Cooling source:
Iced water, cold water (flowing water, water from chiller or cooling
tower)
Min temperature of pasteurization:
62° С
Max temperature of pasteurization:
97° С
Material:
Iced water, cold water (flowing water, water from chiller or cooling
tower)
Pasteurizer tunnels are made in the form of the tunnel that can fit the customer's production area. Dimensions depend on the capacity, the required temperature, and container size, and it can be manufactured as a two-story unit.
Optional Extras
There are options for pasteurizers manufactured by Hermis JSC to be equipped with a system that enables disinfectant dosing, a container dryer, a pasteurization (PU) monitor, re-pasteurization protection system, and/or air conditioning in the control cabinet and other auxiliary equipment according to the requirements of the customer.
HEATING SOURCE
Steam, hot water or electric heaters can be used as the heat carrier for tunnel pasteurizers:
When steam is used as the heat carrier, the direct injection of steam into water or external heat exchangers is applied. The advantages of external heat exchangers are their efficiency (reduction of energy costs), ease of servicing and ease of maintenance.
When hot water is used as the heat carrier, the external heat exchangers or internal heaters in the basins may be used. External heat exchangers are more economical, easier to maintain, and they reach the desired temperatures more rapidly.
The use of electric heating elements requires the availability of sufficient electrical power for the equipment. If necessary, it is possible to use the variant with electric heaters together with steam or hot water.
Controllers
The pasteurizers can be divided by the level of automation on:

Control system based on a Siemens S7-1200 controller:
Automatic temperature control
Registration of pasteurization parameters (temperature and time parameters)
Touch panel control
The possibility of configuration, memory, and a choice of settings for the pasteurization of different containers and the creation of "recipes"
The possibility of remote access via modem and the data transfer (Internet, Profibus, etc.)
Control system based on a Siemens Logo controller:
Automatic temperature control
Temperature registration
Conveyor speed control
The possibility of remote access via modem
Components
Hermis JSC uses only high quality materials and components for production of pasteurizers. These are all manufactured in the European Union and they meet all the quality requirements:
Stainless steel – production standards of Sweden, Germany, and Italy
Electric drivers – Lenze (Germany), or SEW (Germany) on request
Pumps – Lowara (Italy), Packo (Belgium), or Grundfos (Germany) on request
Heat exchangers – FUNKE (Germany), or Schmidt (Germany) on request
Control and shut-off valves – Bürkert (Germany), or Samson (Germany) on request
Condensate catcher – MIYAWAKI (Japan), or Spirax Sarco (England) on request
Isolation valves – SODIME (France), or KIESELMANN (Germany) on request
Modular belts and conveyor parts – MOVEX (Italy), or Rexnord (Netherlands) on request
Nozzles – Lechler (Germany)
Pneumatic elements – Festo, Norgren (Germany)
Temperature sensors, level sensors – ANDERSON-NEGELE (Germany), or Endress + Hauser (Germany) on request
Parameter registration – Endress + Hauser (Germany)
Contact Us for Pricing and More Information About This Product