TECMI EV 750.50 Film Shrink Wrapper
The TECMI EV 750.50 is a continuous shrink-wrapping machine where the film is overlapped under the pack to seal the packaging. It is a highly reliable, flexible machine designed by TECMI technicians and built to top-quality standards to meet the needs of the market's biggest clients. Available in multiple versions for different applications, it is suitable for packaging bottles, cans, jars, spray cans, and other items.
Ultimately, the EV 750.50 enables the high-speed production of up to 100 packs at a time for an incredibly diverse range of product types.
Film only
Pad + Film option available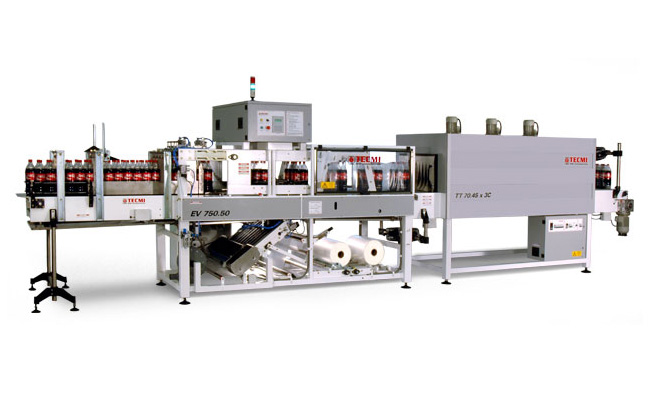 Standard Basic Equipment
Technical Data
Optional Items
Request More Information
This machine has an adjustable production speed that can handle as many as 100 ppm. The polyethylene film feed is synchronized electronically and mechanically and the reel is monitored electronically as it unwinds. There is also a double-lane wrapping option with a single reel and slitting device.
There is a centralized printed film option as well as text display that incorporates programming, monitoring, and stop message functions.
Although there isn't a welding bar to seal the film once the product has been shrink-wrapped, there is a manually operated welding bar that may be used to seal joints when the film on the reel is finished. The film itself is cut with a rotating blade.
The EV 750.50 has an electronic system for monitoring the formation of packs and the product is both visible and accessible at all times during the process. It is easy to regulate format changes and the maintenance operation is simple.
Additionally, the shrink-wrap tunnel (or heat tunnel) allows easy access to the turbines and the temperature is monitored electronically in the shrink tunnel. Once the process is complete, there is a manual device that the operator uses to remove packs from the heating zone once the power is cut.
Important technical data includes information relating to production capacity, power, and both compressed air pressure and consumption.
Production capacity for single lane use is up to 50 ppm
Production capacity for double lane use is up to 100 ppm
Total power installed is 79 kW
Compressed air pressure is 6 bar
Compressed air consumption is 30 l/cycle
Approximate net weight is 3300 kg
Maximum reel diameter is 450 mm
Maximum reel width is 700 mm
Thickness of the polyethylene film is 60 to 90 microns
Input dimensions are 750 mm (width) x 450 mm (height)
Maximum pack dimensions:

Single lane 450 mm (length) x 310 mm (width) x 380 mm (height)
Double lane 240 mm (length) x 240 mm (width) x 380 mm (height)
With tray 400 mm (length) x 300 mm (width) x 380 mm (height)
There are a number of optional items that are available with this machine including single and double lane cardboard pad dispensers and a cardboard pad dispenser that works with both double and single lanes. Wrap-around tray dispensers are also available.
Additionally, there are special conveyor belts that can be used for product input and pack output. There is also a useful table for stacking packaging at 90 degrees.
An explosion-proof safety system is available for shrink-wrap tunnels. There is also a stainless version of the machine.
Contact Us for Pricing and More Information About This Product